Vous m'épouserez?
I suspect not many of you know french well enough to know what the heck the above title means... So you'll just have to keep reading. Suckers. After our
successful 10-day trip out west
to Washington, Vancouver, and Oregon, we got the itch to go on another little vacation. I had just started a new job at the time, but got special permission from my manager to let me take the Thursday and Friday off of my second week. I'm still in the same unit (3
promotions later), so I guess it was okay. And since this trip was to be extra-special, my new manager couldn't exactly say no to it.
I had been up to Montreal a few times previously with friends which, of course, consisted of all the cliched things single young men do while in the French speaking city. I don't need to mention them on this family blog, of course. Suffice it to say, Montreal is a fun city. This trip with Hoang would be vastly different though; in fact, I began planning for it months in advance. Heck, I even involved many friends in the planning. I involved my mom, my roommate, and pretty much everyone other than Hoang's father - a bit of a mistake as I later learned.
As you all know by now, I like to reminisce too much in my writing. Back in 2001, I did that very thing and spent a month or so writing an essay about my relationship with Hoang and how my life had changed since meeting her in late 1999. I solicited friends to share their thoughts about our relationship and how Hoang changed me for the better. I went to Kinkos and had them color copy a few photographs onto my typed pages for effect. Ah, 2001... Pre-scanner, pre-blogosphere, pre-digital camera. Practically the Middle Ages for me. I put together what I thought was a pretty good little book for Hoang and since the trip was right in between our birthdays, the trip and the "book" were our gifts for each other.
More on that stuff later. Because on the first day of our long weekend we drove up to Burlington, Vermont, home of the University of Vermont and all sorts of dumpster divers, trust-fund hippies, liberals, hockey players, Deadheads, and old Volvos. Remember when the conservative Club for Growth said Vermont was full of "latte-drinking, sushi-eating, Volvo-driving, New York Times-reading, Hollywood-loving, left-wing freak shows" in an effort to portray the state as a bunch of out of touch liberals? They were talking about Burlington. Never mind the VAST majority of the state is rural and "traditional."
All that being said, Burlington is a beautiful town, right on the shores of Lake Champlain. We checked out the lake and walked around the town's lively center for a while, then grabbed dinner.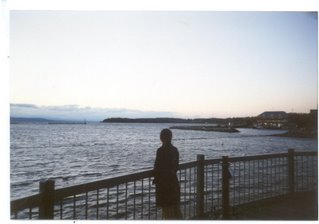 It was all quite normal until we went to some phoney Irish bar wherein I found myself staring at the ring fingers of various women present, which struck me as totally strange behavior.
Day 2
The next day we lazily grabbed some breakfast and headed up to the Great White North after poking
around Lake Champlain a bit. The drive from Burlington to Montreal is only a few hours at most and it's more or less a straight shot. The city is beautiful and clean and easy to navigate. And at that time, relatively cheap too. I made my way to the Best Western I had booked and checked in - the very same Best Western I had stayed in with my boys in prior trips.
We walked the tourist walk up and down Ste. Catherine street and checked out some of the other downtown sights, including certain sights that offer certain liquid refreshments. Afterwards, we dressed up, grabbed a taxi, and went to a ridiculously pretentious restaurant called
Toque
. I love good food and great restaurants and wanted this to be a special meal for us. But if you put two and two together, you noted that we took a taxi to dinner, despite me having a car available. Let's just say that was a smart decision as for some reason, after only a glass of wine, the two of us were feeling pretty good.
From that point forward, the most-expensive-meal-either-of-us-had-ever-eaten-at-that-point-in-our-lives unfolded like a Felini
film. Our waiter looked like Kevin Spacey's identical twin which cracked us up way more than it should have. The two of us were famished, so when the wondrous appetizer arrived, we were raring to dig in. Now, let me set the scene here... This place was rather intimate and quiet and dark. The clientele was decidedly erudite and refined. Then there was us - two 20-something ding-dongs from Connecticut giggling about Kevin Spacey waiting on us.
Our appetizer arrived and it was as cliche as you can imagine - tiny, delicate, pretty... And expensive. It was a piece of lobster with some truffle and maybe some caviar or something with it. The kind of morsel that is to be slowly savored and tasted with every part of your tongue. Yeah, well... We popped the whole thing in our mouths in one bite and were done with it in about 12 seconds, if not less. Wow. Delicious... I think. Like I said, we were ding-dongs. Lest you think I'm exaggerating,
read this quite funny review
of Toque.
I don't remember the rest of the food, but I'm sure it was great. What I do remember (vividly) was Kevin Spacey's attentiveness. It was absolutely ridiculous - he'd appear tableside, pitcher in hand, after every sip of water. Take a sip of wine and there was Keyser Soze replacing the ounce. Due to our condition and our immaturity. We began faking him out by lifting the glass and not drinking. Or fake drinking. Or reaching for the wine bottle as if to - GASP! - serve ourselves. I'm quite sure Spacey wanted to punch us in our heads, so I can assure you we made it up to him monetarily.
Sated, we hopped in a taxi and told the driver to take us to the "hottest club in town," which I choose to believe he did. I have no idea where we were, but we had a great time dancing into the wee hours of the morning. Wow, what excitement would the next day bring? I knew we had Flyers-Habs tickets at least!
Day 3
On Saturday we awoke quite late, possibly in the early afternoon (ah, the carefree life of youth)
and checked out of the hotel. We killed some time after breakfast/lunch/coffee and made our way to the day's focal point:
Mont Royal
. The day was brisk, chilly, and gray but I stuck to my plans to get a little hiking in. I grabbed the necessary items for the hike and persuaded Hoang it would be well worth it. Despite the fact that we were dressed in nice shoes, pants, and coats, we trudged up the mountainside which was thankfully dry and gradual.
Why in the world I insisted on hiking the half mile or so from the neighborhoods below rather than simply driving up is beyond me. Let's just say my head was in the clouds. And we nearly were (in the clouds) once on top. Mont Royal towers above Montreal and the terrace up there offers a fantastic vantage point to take in the whole city. It is really quite something and I encourange anyone who visits Montreal to make the minimal effort requred to get up there. The only downside for us was that it was pretty chilly and cloudy - yet it was still very pretty.
*Deep breath*
After checking out the view we wound our way to the steps of the building up there and took a cold seat on the stone. A group of McGill College frat boys were playing Frisbee in front of us as the sun set behind the mountain. At that point, I asked Hoang to read the book I had put together that I mentioned earlier, so we snuggled up and got as comfy as possible. Wow, I am capable of writing a lot. As I alternated my glance between the pages in front of Hoang and the
frat boys, I grew more nervous with each turn of the page. I'm sure Hoang was thinking, "Good Lord, how much more of this do I have to read up here?" While I was thinking, "Dear Lord, please get rid of these frat boys by the time she finishes this thing I wrote!"
*Deeper breath*
As Hoang flipped to the last page, the boys took a hike. In fact, all the people around us more or less disappeared which was quite nice. I ended the book with a rather cryptic open-ended statement so when Hoang looked up at me in confusion, I removed my sweaty hand from my pocket, opened it up, and stammered, "Hoang... Will... You... Marry... Me?" In my shaky palm, of course, was a diamond ring and on her face was a look of happy surprise. Not
such
a surprise that I shouldn't have asked, and yet not a fake surprised look either. In other words; perfect timing. She got emotional and I waited another 30 seconds or so and had to say, "You haven't said yes yet."
"Yes, of course I'll marry you!" she blurted out and with that, I immediately became the happiest guy on the earth. I also immediately trundled off to the bathroom as the situation made me rather nervous to say the least. My fiancee and I floated back down the mountain to our car and drove back across the city to our new hotel for the night - the swank Marriott downtown. My fiancee took some time to call her sister Quynh to tell her the good news as I sat and smiled at what I had done.
However, there was limited time for lolligagging because we had big plans for the night - so if any guys are reading this story all the way down to this point and you're saying, "Steve is such
a simp," check this out: We walked over to the Molson Centre to watch my Philadelphia Flyers dispatch the Montreal Canadiens! What could make me any happier? I actually spent a good deal of the game talking to some guy from Yellowknife in the Northwest Territories. "Oh, then I'm sure you're familiar with former Whaler Geoff Sanderson, the only NHL'er from the NWT's!" The guy and I hit it off, talking obscure NHL trivia all night. Hoang loved every second of it - as she sat there looking at the new sparkly appendage on her left ring finger for the majority of the game.
One last engagement story: After the game we made our way to a restaurant for a late dinner. (11 PM dinners are common in Europe, so we figured it would be OK in fake-Europe too. It was.) Still in a celebratory mood (Flyers won! Just kidding.) I stupidly told the waitress, "We just got engaged! Please bring us two glasses of some champagne!" Yeah, well, here's your lesson: Specify the type of champagne you want unless you are rich. I was none too happy when the bill arrived and I found that each tiny glass of champagne was $32 Canadian dollars or something like that. Oh well. I was engaged!
Day 4
Before making the drive back home, we toured the Old City (Ville Vieux) part of Montreal. It was very quiet on Sunday morning but very pretty. The old cathedrals and the narrow cobblestone streets certainly do give a distinctly European vibe to the place. We walked up and down the Rue d'Artistes and had fun looking at the wares of all the vendors. This happens to be where most of the pictures within this story are from, by the way.
After about an hour there, we headed south to Connecticut. Since 9/11 was barely more than a month old, the border crossing along the highway was backed up for at least a couple hours. Predicting this, I headed off the highway and took a variety of goat paths and back roads until coming to a desolate border crossing manned by two officers who couldn't have cared less that we had just gotten engaged. They gave our car the full once-over and peppered us with questions and sent us on our merry way. With one stop on the way home: Vermont's capitol building in... in... where? tick tock tick tock. That's right, Montpelier, the least populated capital in the land:
Once home, I learned why it's important to alert the future inlaws of your plans. Needless to say, Hoang's pops was a bit surprised and perhaps concerned with my lack of forsight, but after a lovely evening getting to know each other better, all was well. And we had a wedding to plan!
On to the wedding!
Vacations Home
BesettingVice Home